Skills and knowledge transfer in times of crisis. When a crisis hits, diaspora organizations are often the first to respond to natural disasters or conflicts in their country of origin. This can be through cash assistance in form of remittances to affected families and communities.

But often, members of the diaspora have more to offer than financial support: they are doctors, midwifes, nurses or engineers, as well as teachers, electricians, or IT specialists. They draw on these specialized skills to provide emergency services and supplies in crisis-affected regions – both remotely and physically.

Over time, migrants and diasporas can inspire people to build their own business, innovate with ideas and investment and develop their capacity to become self-sustained.

It all began with a tragedy

On the morning of 8th October 2005, a catastrophic earthquake measuring 7.6 on the Richter scale struck the population of Northern Pakistan. For six terrifying minutes the earth shook and when it stopped, over 87,000 people had lost their lives, tens of thousands were severely injured and over three million were made homeless.

This was the beginning of Midland Doctors. In the aftermath of the disaster, a group of doctors from the UK, US, and UAE travelled to Azad Kashmir to assess the need for medical help when the only local hospital in Muzaffarabad collapsed. Soon after they created the UK based NGO Midland Doctors with a vision to provide free healthcare to people in need in Northern Pakistan.

Building up hope from the ground

The first step was building an emergency field hospital right after the earthquake. But this should only be the start of a larger project. In 2013 a state-of-the-art medical facility, the Midland Doctors Medical Institute in Muzaffarabad opened its doors to the public. It is the only free hospital in a 70-mile radius in the region of Azad Jammu and Kashmir. Since then, over 345,000 patients have been treated.

Yes, Noor can become a nurse

We provide specialized medical training and education to our staff at Midland Doctors Medical Institute MDMI with the help and support of our volunteer doctors, dentists and nurses who donate their time and travel on their own expense from the UK, USA, UAE, and major cities across Pakistan. We are proud of


8 virtual COVID-19 courses completed
15 international doctors visit regularly MDMI
21 medical courses held at MDMI


We hope to serve the community by inviting more volunteer nurses to contribute their experience and time to people in need of Azad Jammu and Kashmir. The training provided by nurses with international experience is key to bolstering the local work force.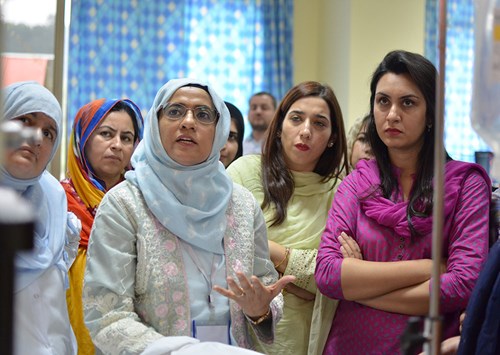 Training the Nightingales of Kashmir

Nurses are the backbone of any healthcare facility. They execute care plans formulated by doctors and look after each patient as if they were their near and dear ones. With the advancement in healthcare delivery and digitalization of technology, demands on nurses and paramedical staff has increased manyfold.


"Delivering care of exceptional quality in a safe and dignified setting is a key ethos of our organization." Dr. Asrar Rashid


We train nurses to monitor patients, set up and manage Intravenous infusion pumps, analgesia pumps, cardiac monitoring and use of defibrillators. Basic life support (BLS) training is conducted on mannequins. They are also made to be well versed in IT to manage monitoring and documenting.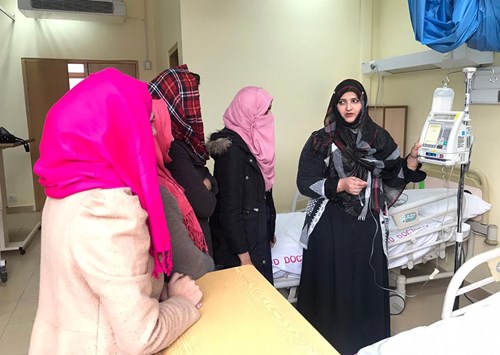 Surgical Teams arrive monthly and devote time, skills and resources

The very first course conducted at the MDMI education center was of basic surgical skills, where doctors and nurses were trained to tie surgical knots, handle surgical wounds to protect from infection and suture the wounds. From that time on, surgeons, urologists, anaesthetists and radiologists regularly visit MDMI from around the world. Fully self-funded and in their own free time, they train young surgeons and help our hospital deliver life-saving medical treatment to a community, which would otherwise be devoid of medical care.
"These trainees will save lives in future using the skills taught." Nauman Rashid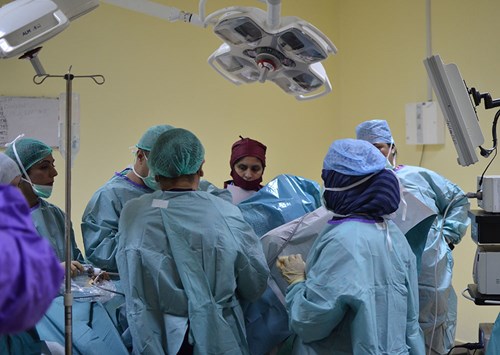 Photo Credit: Midland Doctors Pakistan
The contents are the line responsibility of the diaspora organization and do not necessarily reflect the views of DEMAC.